YAMAHA TY-E
2018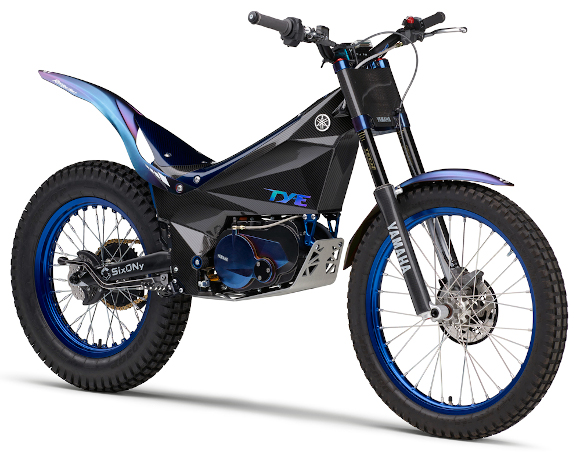 YAMAHA motor Co announced in 2018 the development of the TY-E electric trial motorcycle that will participate, with its rider Kenichi Kuroyama, in the FIM Trial-E Cup.
TY-E features :
- a high rotation type compact high-power motor that achieves high off-road performance with both powerful low speed torque and extended acceleration,
- motor control technology that achieves an excellent response and a power feeling from extremely low to high speed ranges,
- a power unit equipped with a mechanical clutch that secures instantaneous power and control, and an electric motor and optimized flywheel that realizes excellent traction performance,
- high-output of a newly designed compact high-output battery pack with compact and lightweight components,
- a CFRP monocoque frame that is at the lightest possible weight, while securing optimal rigidity and battery storage space,
- extreme slim styling that does not interfere with dynamic rider action.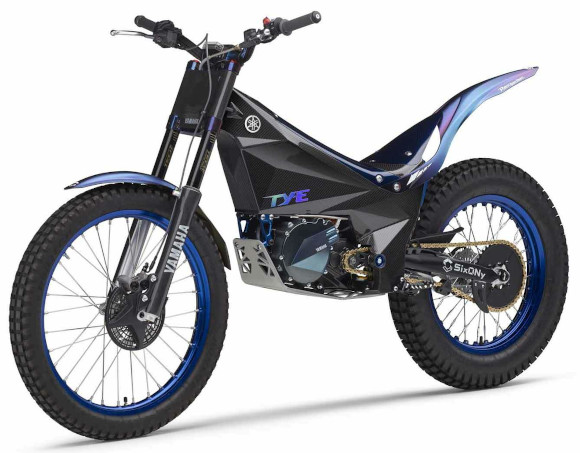 TY-E Specifications

| | |
| --- | --- |
| Overall Length x Width x Height : | 2,003mm x 830mm x1,130mm |
| Wheelbase : | 1,310mm |
| Minimum Ground Clearance : | 350mm |
| Vehicle Weight : | less than 70kg |
| Engine Type : | AC synchronous electric motor |
| Battery Type : | lithium-ion |
| Clutch : | Hydraulic, Wet, Multi-plate |
| Frame Type : | CFRP Monocoque |
2022
TY-E 2.0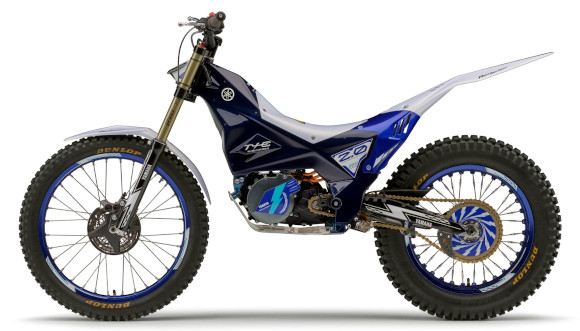 Yamaha Motor announced that it has developed the TY-E 2.0 electric trials bike, which approaches achieving carbon neutrality from the perspective of motorcycling fun.
The TY-E 2.0 is scheduled to participate in the FIM Trial World Championship with Kenichi Kuroyama on the Yamaha Factory Racing Team, who also serves as its development rider.
TY-E 2.0 features :
- The TY-E 2.0 employs a monocoque frame made of composite laminates to contribute to lighter weight and optimal rigidity,
- The layout of the power unit and battery was reviewed and revised to achieve a significantly lower center of gravity compared to the previous model,
- Yamaha developed a new high-capacity battery with higher output density and successfully kept the weight increase down to some 20% while achieving about 2.5 times greater capacity than the previous model,
- Power unit further refined through a combination of mechanical parts and electronic control,
- Based on the previous model, traction has been improved by pairing mechanical parts such as the clutch and flywheel with carefully tuned electronic control for the motor that is capable of reading subtle changes in grip.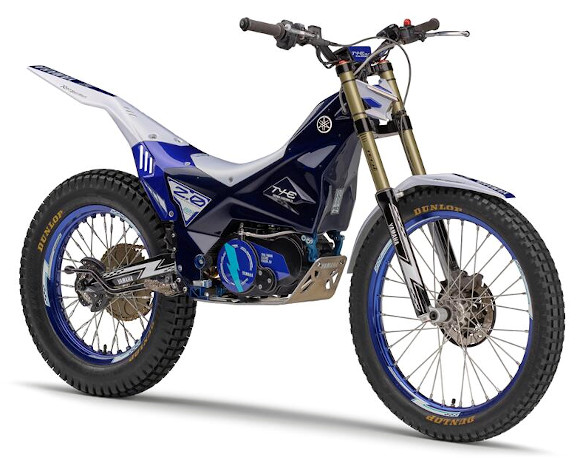 TY-E 2.0 Specifications

| | |
| --- | --- |
| Overall Length x Width x Height : | 2,003mm x 830mm x1,130mm |
| Wheelbase : | 1,310mm |
| Minimum Ground Clearance : | 340mm |
| Vehicle Weight : | over 70kg |
| Engine Type : | AC synchronous electric motor |
| Battery Type : | lithium-ion |
| Clutch : | Hydraulic, Wet, Multi-plate |
| Frame Type : | CFRP Monocoque |
Site offered by yamahaty.com